Meeting Information


Where ? Macon High School Cafeteria

When ? Next Regular Meeting
Monday May 2, 2016

7:00pm to 9:00pm
Topics for Discussion



Small Hive Beetles
By Wes Johnston

Oxalic Acid for mite control
By Wanda Johnston

See Bio at right for Wes & Wanda

Open Discussion






Swarm List



Below is a list of club members that are willing to come and get bee swarms.

Terry Arment , Shelbyville, Mo. 573-822-2653
Terry Barnett , Macon, Mo. 660-651-3989
Roger Bernskoetter ,Chillicothe,660-247-5504
Kevin Blew , Clarence, Mo. 660-349-8071
Bob Brammer, Macon, Mo. 660-415-6480
Brady Briddle, Kirksville, Mo. 660-626-7833
Ricky Caylor , Macon, Mo. 816-695-8267
Jerry Coulter, Jacksonville, Mo. 660-591-2097
Al Crego , Bosworth, Mo. 660-534-7404
Rich Davis, Macon, Mo. 660-651-8590
Don Duvall, Madison, Mo. 660-651-6275
David Gall, Callao, Mo. 660-833-7339
Bill George, Chillicothe, Mo. 660-214-0132
Karl Hostetler, Shelbyville, Mo. 660-415-7458
Aaron Hulse , Macon, Mo. 660-998-4311
Billie Hurley , Downing , Mo. 660-626-7817
Paul Jensen, LaPlata, Mo. 660-332-4027
Bob Klingenberg , Bevier, Mo. 660-385-5611
Troy Link, Moberly, Mo. 660-651-5104
Charles Miller, Macon, Mo. 660-651-5602
Rick & Janet Miller, Excello, Mo. 660-346-1068
Deanna Morgan , Breckenridge, Mo. 660-973-0052
Jackie Mott, Madison, Mo. 660 651 8612
Ben Nelson, Macon, Mo. 660-385-2560
Paxton Pittman, Bevier,Mo. 918-316-7500
Roger Rector, Macon, Mo. 660-651-3822
Dan Schlipf, Macon, Mo. 660-384-4216
Dan West, Macon, Mo. 660-651-7582
Wade West, Shelbina, Mo. 573-424-7284
Preston Williams, Madison, Mo. 660-291-8740
---
MAP



Click Here to View
2016 Advanced Beekeeping Class Flyer



Wes and Wanda Johnston live in Ferrelview, MO very near the Kansas City airport.
Wes is the Midwestern Beekeepers Association's Treasurer and Wanda is the
2nd VP/ Membership Chair.
Wanda is the former Missouri State Beekeepers Association's Honey
Queen Chair from 2013 through 2015.
Wes and Wanda have helped Dean Sanders with the Missouri State Beekeepers
fair booth in Sedalia, MO, for the past three years.
They have been keeping bees for 6 years. Currently they have 4 hives and 6 nucleus colonies.
They are involved with ten different beekeeping organizations.
This year, through the Youth Scholarship Program from Midwestern Beekeepers,
they have taken on the responsibility of teaching beekeeping to a twelve year old girl.
Small hive beetle has proven to be a real problem in our part of the state so
Wes was asked to give a program to Midwestern Beekeepers on this topic.
Wes will give that program May 2 in Macon.
Wanda became interested in treating for varroa mites with oxalic acid when it became legal
to use in March 2015.
She has read extensively on oxalic acid and has treated 45 hives so far.
She has decided that sublimation is her treatment of choice for varroa mites.



A Beautiful Local Grafted Queen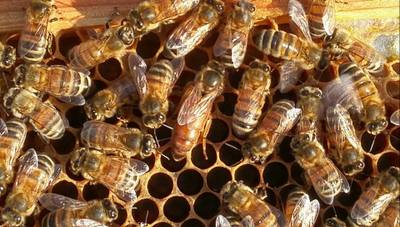 Copyrights (c) North Central Missouri Beekeepers Association 2013